GET YOUR GROOM ON RIGHT NOW
Watch The Hairy Groomfather in Action!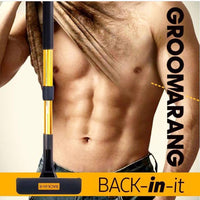 BACK-in-it
A lot of women love stubble . Many are keen on hairy chests. Most are not even bothered by feathery knuckles, tufty forearms or monkey legs. But, for whatever reason, a hairy back massively lags behind, and quite simply keeps you out the game. But here at Groomarang, we are not going to stand back and let this happen. No no no. Now it's time to get 'Back- In- It' with the Groomarang do it yourself, back and body hair removal device!
Free Me Of Back Hair Now